After a long day, you just wish to enjoy a movie or watch the latest music videos, but you keep wondering which is the best video players for Windows PC.  You have used Windows Media Player for a while and knew that it is time to find an alternative. If it's a free alternative, even better. You have come to the right place because we are here to help you.
There are many variables to consider, like usability, supported video formats, file conversion, integration with streaming services and user interface (UI) to keep in mind while downloading a video player. The best video players can play a substantial variety of audio and video formats, without the need to download new elements.
A great media player also needs to be simple, intuitive, lightweight and, perhaps, with cool features. There are hundreds of video players that claim to be the best in the business, and if you are not well informed, it's hard to pick a choice. That's why we've gathered the most excellent options available to help you enjoy video the way you deserve.
10 Best Video Players for Windows PC
1- VLC Media Player
VLC Media Player pops up every time someone is discussing the best video players around. But why is it so popular? VLC is known as the video player that plays anything since it supports almost any audio and video compression format.
Although not with the most fabulous looks, VLC gets the job done in the best possible ways. Nevertheless, if you are into personalization, VLC allows you to choose from available skins, even create your own, to enhance your viewing experience.
Advantages of VLC
Full open source
Simple to use and easy to understand
Supports multiple formats, playback from files, discs, external devices, online streaming, 360-degree video. And webcams
Supports subtitles, and audio and video syncing
Extremely light on resources
And you know what's cooler about VLC? The best media player available receives frequent updates to make it even better.
Download: VLC Player
2- Potplayer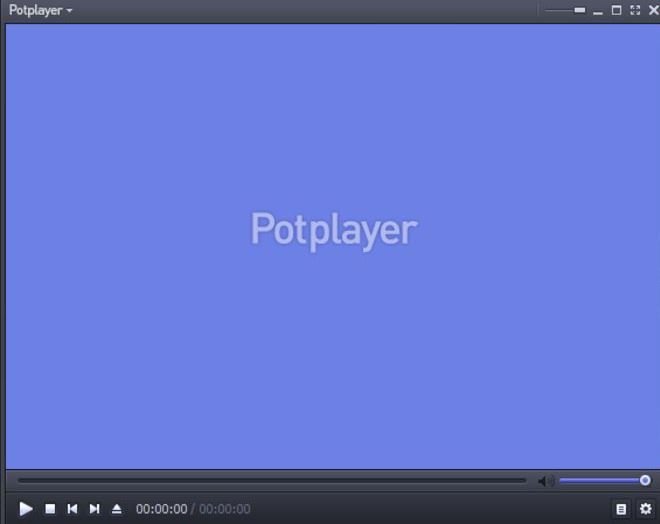 Do to its Hardware Acceleration Feature, PotPlayer stands out as one of the best video players for Windows PC and delivers a lightweight and top-notch performance.
With even more settings than VLC, PotPlayer gathers a vast range of customization options that permit you to fit the software to your specific needs.
You even get filters for brightness, contrast, and noise reduction.
Advantages of PotPlayer 
Great media player for MP4/FLV/AVI/MKV files and online streaming
Supports devices such as TV, DVD, and HDTV, playback from files and discs
Include features like clip recording, bookmarks and scene previews
Keyboard shortcuts and hotkeys
To this list of attributes, we should add a detailed and friendly user interface that makes PotPlayer a marvellous video player.
Download: PotPlayer
3- KMPlayer
KMPlayer is another awesome, versatile and free Windows media player that can handle almost every mainstream video and audio files. With the support for 3D, 4K, and Ultra HD (UHD), users can enjoy high definition videos at their pleasure.
If you are looking for a certified good video player, but you think your computer won't handle it, KMPlayer is the best option as it modifies itself to accommodate to an easygoing, lightweight multi-media format.
KMPlayer has many things to enjoy. Some of which are:
An in-built subtitle editor
Plays DVD and sets up libraries
Supports 24 languages
It requires just a 30 MB Hard disk space
Another aspect to take into account is that KMPlayer has an inbuilt codec for Windows 10, but still you can add external codec's if needed.
Download: KMPlayer
4- GOM Media Player
GOM Media Player is remarkable software with user-friendly interface and advanced functions, packed with inbuilt support for the most popular video and audio formats.
The GOM proclaims itself as the only media player you'll ever need and, although it might not be entirely true, it's not entirely false either. GOM is one of the best videos on the market, with tons of elements; this video player is very customizable.
Advantages of GOM Media Player
Formats included are AVI, MKV, MP4, FLV, MOV, among others.
Supports 360-degree video.
Media Player Capture, speed control, audio and video effects.
Choose from different skins.
Download subtitles through GOM's library.
Despite being among the best players, GOM Player's interface contains some ads. These aren't obstructive but might bother you.
Download: GOM Media Player
5- RealPlayer
RealPlayer comes in half on our list of the top video players for Windows. This software provides outstanding video and audio quality and lets the user not only watch content but also download online videos.
But the best of RealPlayer might be that instead of just letting you watch movies, you can boost your experience by sharing videos across the cloud and social networks.
Advantages of RealPlayer
Ability to transfer to and from your mobile devices
Store content
Share through cloud service and social media
Share content on HD TVs
Keep bookmarks
RealPlayer is a smooth and untaught interface that does the jobs quickly and with a few extras, making it easy for the users to manage their media content. Although there is a premium version available, the free option still makes for one of the best video players.
Download: RealPlayer
6- 5KPlayer
5KPlayer serves as a top video player, streaming media server, video downloader, and audio and video converter for Windows PC. Yes, all of them. Awesome, right?
Advantages of 5KPlayer
It is a sophisticated free media player offering;
High-quality playback of 4K / 5K and even 8K FUHD movies
Online music video downloader without subscription
Audio and video converter
With its simple interface, 5KPlayer delivers in almost all kinds of videos and music without additional plug-ins. It also works as a streaming server that lets you import from all over the place, from sites like Youtube, Vimeo, Facebook, DailyMotion, Instagram, and more.
Download: 5KPlayer
7- Media Player Classic – Home Cinema
MPC-HC for short is another cool video player and the right one if you prefer a lightweight desktop software to play different types of video files. With no intrusive toolbars and no advertising, Media Player Classic Home Cinema offers what you look for: a simple and clean experience. It probably won't matter which type of file you play, because this video player is there for to deliver the goods.
Advantages of Media Player Classic – Home Cinema
Built-in codec support
Portable version that extends productivity
Subtitle downloads and Skype integration
Customize skins and add toolbars
It's not just nostalgia since it first came out in 2003. Users love MPC-HC because of it's easy to use, has a small installation size and low resource usage. It is the perfect video player for old Windows PCs.
Download: MPC-HC 
8- Plex
Trust us; Plex is not your common media player. It's way, way more. It has an excellent free version, but and the incredible premium-paid version that lets you take good care of large media collections, which can include pretty much anything, from movies and videos to TV shows, pictures, and music.
Advantages of Plex
Supports all video and audio formats
Choose what makes the public eye
Control the app from your phone or tablet
Saves videos from any site
Rich media library
Online store
Plex is an all-in-one app wonder that is new in town, but here to stay.
Download: Plex
9- DivX Player
The #9 entry of the best video players for Windows PC is DivX Player. If you are looking to enjoy high quality looking movies, including UltraHD playback, then this is the player for you.
Although it delivers with the most popular video files like MP4, MKV or AVI, DivX Player is designed for HQ video playback and cross-device streaming of media files, including music, video, and photos as along as there is a DLNA-compatible device.
Advantages of DivX Player
Compatible with Samsung Galaxy products, Xbox, PS3 or Chromecast
Navigate through your favourite scenes
Listen to tracks in other languages
Smooth fast-forward and rewind (FF/RW)
Organize playlists
DivX Player is a great deal for a video player, definitely one of the best.
Download: DivX Player
10- UMPlayer
Our last pick of the best media players for Windows is UMPlayer, the one you need to check if you considered yourself to be a movie fan. UMPlayer remembers your media positions and settings, lets you sync audio subtitles and has a built-in subtitle search.
Advantages of UMPlayer
Open source
Built-in codec support
Customize skins
In addition to supporting a vast variety of formats, you can select media content from streaming services like Youtube, DailyMotion, Vevo and more. UMPlayer is not just one of the most popular, but also one of the best free video players.
Download: UMPlayer
The Verdict
This way we wrap up our Top 10 list of the best video players for Windows PC. We hope that this article helps you find the media player that fits your needs. All of them have free versions, but a few have paid versions as well.
Do not hesitate to let us know if you feel that we might have left one out. We'll check it out and perhaps, who knows, we might just add it to our best video players list.