The Origin of Cloud Data Integration Business Initiatives
Many distinct tools provide the sturdy foundation for your company's operation for those in technical, logistic, and customer-facing roles. These tools such as CRMs and ERPs can synergize through cloud integration solutions, bringing together customer relationships with resource planning.
These bridges create a renewal of productivity—a primary motivation for integration—but they also add insight into operations and sales through better data availability. Departments and databases that were once disparate and separated from each other enable data sharing and more richness of information crucial to their core responsibilities.
Getting to this point is not always comfortable, easy, or simple. The trouble is that it can be unclear how integration can become central to a software ecosystem. To help you see where the need for integration comes from, explore the obstacles businesses overcome through cloud integration solutions:
Sinking levels of productivity impacting sales
Large segments of customers with little or inconsistent data
Low success scores for fulfilling client orders
Missing and fixed data spread across platforms
Errors found in data entries manually made
Halted and slowed decisions from data blocks
Helping to improve these conditions and cope with these problems, cloud integration pushes companies to renew their performance and advance their productivity. You can see that across industries and commercial boundaries cloud data integration is making improvements. It supports growth and brings benefits to sectors like those below that show how integration propels their business.
Businesses Advancing through Cloud Data Integrations
Resource planning tools and customer relationship managers fuel the operation and income of many successful businesses. One manages in-house processes and keeps work flowing, and the other sees opportunities in sales and contact data. Because they each can handle so many different tracking, storing, and planning needs, almost every sector focuses on them to run smoothly:
Manufacturing
Healthcare
Distribution
Services
Commerce
Construction
Industrial
These industries use resource planning and customer relationship tools to handle the flow of sales, business, and data. And, though each tool (ERP and CRM) is equipped to handle changing conditions and needs, a connection between them is being found as equally essential. By doing so, doctors, manufacturers, firms, colleges, and more are able to follow contacts, trace interaction, manage resources, and produce positive outcomes.
Using Cloud Integration to Boost Business
Relying on systems means that you make them a permanent solution. Still, some business leaders avoid integration of these pillar systems because they anticipate a tedious, expensive, and frivolous process. Cloud integration, however, has come a long way. Today, it's able to solve the data challenges that create miscommunication, lost coordination, and inaccessible information crucial to key roles. Cloud integration through a third-party frees the choice, cutting costs and time to completion.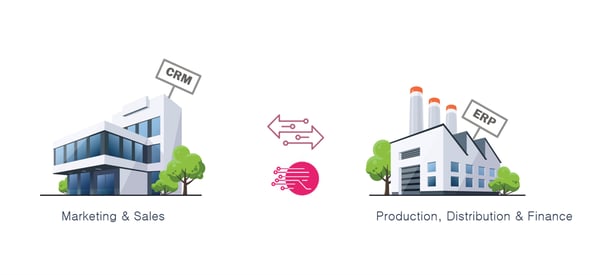 Once you start to notice the consequences of your isolated systems, you may be entertaining the idea of tasking an internal team with integration rather than the third-party solution. But while the third-party integration uses simple templates to custom-fit your organization and systems (usually in days), in-house attempts can take months.
Once you complete the simple installation, you'll start to enjoy the benefits of a cohesive and universal data environment:
Reduced reliance on expensive, manual data entry
Streamlined storage and record duplication
Shared data across platforms and departments
Linked accounts for orders, tickets, and customers
Improved visibility of strategic data to leaders
Saved expenses while improving productivity levels
You should see that compared to the benefits, the requirements of integration are minuscule when you work with a third party to minimize downtime and ensure seamless consistency across databases. The cohesive and complete experience of your data will more than prove its ability to influence each corner of operations as it does across industries. Consider the possibility of integration with a trusted third party.
Select Cloud Data Integration from RapidiOnline
Rapidi has proven that data integration can be as profitable as it is simple. Helping companies avoid the complexity and confusion of in-house development, Rapidi solves integration challenges without asking you or your technical teams to code or program the solution. Rather, they use pre-configured templates, unique customizations, and strong customer support to help businesses enjoy integration without hassle.
To start enjoying the benefits of cloud integration that businesses across industries enjoy every day, integrate with Rapidi.