Plenty of starter business are up for sale. They are fully set up and ready to get started. These young businesses are full of potential. The right opportunity for those who are looking to have their own independent ventures. Check out these three lucrative starter websites for sale, if you want the reins to running your own promising online store.
Retro Remade
Bringing back nostalgia and fond memories in stylish, fun merchandise are what this starter site is all about. Retro Remade knows that the young adults of today are the teens of the '80s and '90s. They are very fond and nostalgic about that era. As the current owner put it "Retro Remade is able to capitalize on people's emotional side." This site sells retro themed graffiti t-shirts and handheld gaming consoles. Those were a part of one's childhood.
How it works
This is a drop shipping site that can be made functional by fulfilling orders through Oberlo. This removes the need to keep an inventory and eliminates any risk of unsold stock of goods. It also makes it easy and convenient to be managed from one's home.  Aggressive marketing and advertising through Facebook ads could go a long way in promoting this site's products. Marketing campaigns via email, advertising products on Instagram, tying up with Instagram Influencers to promote the products are methods by which Retro Remade can work on building brand awareness and pushing up its sales.
This online store belongs to a very unique and rare niche space. While it currently specializes in only one type of apparel and gaming merchandise, this leaves much scope for increased diversification of their products. The buyer could also hire creative talent to redesign or upgrade the website by developing more on the retro/nostalgia theme.
The sale of the site gives the buyer access to the logo, branding assets, web domain name, product photos (om Shopify), social media following and personal support from the seller for initial assistance in running the site. The expenses involved in running the site are $30 a month, for the web domain name and the Shopify plan.
Retro Remade is one of the many hopeful starter websites for sale which is waiting for a buyer who can tap into its hidden potential, popularize its merchandise and the concept behind it. It is up for sale on Exchange Marketplace by Shopify at $178.
Taking you back in time to the happy memories: Retro Remade
iFickle
This starter online store sells cases and covers for iPhones. These cases are funky, vibrant, colorful and have diverse themes that would appeal to people of all age groups and genders. While everyone loves to have an iPhone and flaunt it, these accessories add that fancy bling quotient to an iPhone.
iFickle is a starter website that sells upbeat, niche merchandise. This site could be shaped into something bigger and better by anyone with some magic marketing skills. This site is fully functional and ready to be kickstarted. Being a drop shipping store, it has its suppliers ready and the order fulfillment process is largely automated. Placing orders with the suppliers and investing heavily in advertising and marketing are the main tasks required to get this business running.
Be fickle in picking cases for your iPhone.
The sale of this site will give the buyer full access to the logo, branding assets, web domain name, suppliers contacts and social media following. The seller is ready to provide personal assistance to the buyer after the sale in the initial stages of becoming fully operational until they are comfortable to run the show by themselves. The seller recommends the usage of Fiverr and Upwork for conducting social media campaigns. If you're going through starter websites for sale for a starting point to having your own business, iFickle is the site you could consider zeroing on. It is listed at $500 on Exchange Marketplace.
Baby Avenue
Baby Avenue is an online store for baby clothes. Its merchandise consists of delightful and festive themed graffiti outfits for infants. This store targets new parents who want to pamper their little ones with funny t-shirts and fun clothes. Anyone who wants to buy pretty clothes for a baby.
Priced reasonably, Baby Avenue has the potential to make a niche space for itself in the clothing and apparel industry in the long run. This site requires plenty of investment in advertising and marketing. Which is because what the seller sees in store for this site's future. Being a drop shipping store, the main tasks involved in running this site are carrying out the fulfillment of the orders, conducting product research and advertising, especially through social media.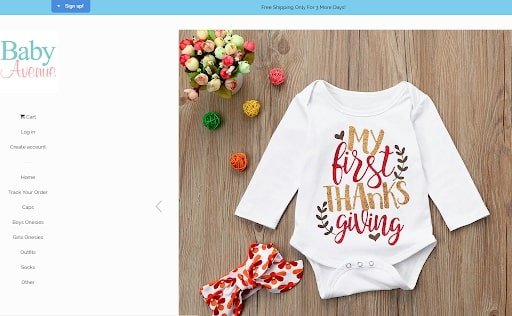 The sale of this site gives the buyer access to the web domain name and personal support of the seller after the sale to understand the main tasks involved in running the site. Baby Avenue is worth giving a shot at for anyone looking to set foot into the e-commerce side of the clothing and apparel industry. This site is listed at $190 on ExchangeMarketplace.
Baby Clothes for special occasions
Starter websites for sale can be seen as an opportunity to test one's mettle in being able to manage a business. It serves as a learning ground in running your own online store. There is much to learn and explore in the world of e-commerce. Retro Remade, Baby Avenue and iFickle are examples of humble starter websites. They have the hidden energy to become different and big.