It seems like, these days, people are always using—and searching for—photo editors. Whether they want paid or pro, free or trial versions, Photoshop or the next best thing, everyone wants to have the ability to edit pictures the way they like them.
And while photo editing is fun and artistic as a profession—who hasn't admired the high-quality photos of the best photographers and photo editors?—the barriers to entry can be a little high for a newbie. More specifically, if you're just looking to start editing photos for fun, then the high cost of equipment and software might deter you from following your dreams. But fortunately, there's a good solution for this: download a free Photoshop alternative. These programs are free and easy to use. And, while you might not think that they're very useful for your purposes, especially if you do a lot of photo editing, you'd be surprised: most of them offer the same abilities as Photoshop, and some even do the job better and more quickly.
Many a free Photoshop alternative is available out there, all available for downloading with a simple click of your browser. In this article, we're going to review the 10 best pieces of free photo editing software. These programs are powerful, easy-to-use, and compatible with many operating systems (including those on mobile phones and tablet PCs). It goes without saying, they're also free, ringing up a price tag of exactly zero dollars (although note that some of them have more powerful paid versions).
#1. PicMonkey
PicMonkey works via your browser and considered the best Photoshop alternative. It's very easy to use, even for beginners who have no experience in photo editing, and this is helped by the many tutorials offered on its website, which is updated regularly. It can be used to create high-quality images, perfect for Instagram or other photo-sharing sites, on account of its many tools, such as blemish and wrinkle removers. It's available for desktops, tablet PCs, and mobile phones. We should give a shout-out to its mobile and tablet PC versions in particular, which are both highly effective and easy to use (even moreso than the desktop version). Photo editing aside, you can use the program to make beautiful collages collating together all your favorite photos, as well as add fun filters (mustaches and party hats) on top of your pics. PicMonkey also has a paid version, which includes more tools and new fonts.
#2. CinePaint
This free Photoshop alternative is very powerful as a tool for touching and retouching photos; it even allows you to edit photos with 32-bit fidelity. Indeed, it's so effective (despite its free price tag) that Hollywood studios have even used it for animated films in the past. A versatile program, it can be used for both images and videos. It's available on Mac OS X, Linux, Unix, and BSD.
#3. GrafX2
This open-source photo editor is available on Window, Linux and Mac OS. The program has been around since 1996, and is still alive and well: it has transparency effects (among many other effects), many brushes to choose from, and a palette editor. You can use it to draw with indexed colors, and cycle through colors. It's compatible with all image types that are supported by Windows (JPEG, BMP, PNG, GIF, etc.)
#4. GIMP
GIMP (available for Windows, Mac and Linux) is known to be the most popular open-source software for photo editing, and with good reason. It offers you feature upon feature upon feature to choose from. Indeed, no matter what you'd like to do with your images—whether it's using masks, adding layers and juxtaposition, adjusting colors, and transforming elements of the design—not only can you use them with your images, but you can also customize them to your heart's content.
Because GIMP is open-source, its user base is constantly updating it and adding new features to its roster. This ensures that it will continue to be a relevant image-editing tool in the years to come. Thousands of plugins and scripts are also available; many of these will offer the same effects as those in Photoshop (Liquify being one example), but others offer completely unique effects. You can also add Photoshop plugins to GIMP if you like.
#5. Seashore
Seashore, a photo editor for Mac users, offers countless features, including resizing, adding text, multi-layering, cropping, resizing, and correcting color. It also has tools for multiple layers, different kinds of brush strokes, and a gradient manipulation tool. It's lightweight, easy-to-use, and very user-friendly thanks to its intuitive interface. It uses the same tool offerings for attributes as GIMP. You can learn how to use it in a few minutes, even if you have no experience with photo editing whatsoever.
#6. Pixlr
Pixlr is a free Photoshop alternative is known as an online photo editor, but it's actually got multiple versions. There's the online version, of course—accessible by browser, which makes it ideal for editing on the go—but it also offers desktop and mobile versions (android and iOS). You can do all kinds of things with Pixlr editor; for example, there's a clone stamp, a whole lot of fills and brushes, and a recovery tool. You can also customize these tools through the ribbon, which stretches out above your canvas. Masks and layers are supported, and you can open as many images as you like at one time.
It also has keyboard shortcuts to make you work faster—a wise choice, given that the editor itself offers more than 600 effects, including standard things like cropping and resizing as well as those that are more esoteric (to wit: removing teeth). Despite its complexity, however, Pixlr is user-friendly and easy to grasp.
#7. Paint.NET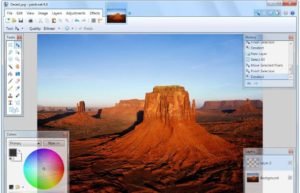 If you have a Windows system, then Paint.NET is a great choice for you. Initially begun as an alternative to Microsoft's Paint, the fast-running program is now a highly versatile photo editor. It offers you both filters perfect for photo editing, including the stamp tool for getting rid of skin blemishes, as well as tool for manual editing. It boasts layer functionality, and you can even use it to batch edit multiple images at one time. It also allows you to access multiple photos at once by displaying them as tabs in the top section of your screen, like you would have with a browser.
In addition to its native features, countless users have uploaded Paint.NET plugins to the product's website and their own sites, allowing you to download thousands of plugins. These will allow you to do everything you can possibly imagine: blurring lines more precisely, adding furry textures to objects, and creating shadow unique effects, for example.
#8. Photos Pos Pro
This program offers separate interfaces for both advanced users and beginners, with the result that just about anyone can use it to edit their photos without getting overwhelmed by the many features, which include batch editing and the ability to directly upload pictures from a camera or photocopier. Whereas the novice mode features one-click adjustments to change filters and so forth, the advanced mode functions pretty much just like Photoshop. The clone tool is very well-realized, the healing brushes work precisely and efficiently, and support is offered for both layers and masks. All the necessary tools for refining colors can also be found here. Plugins are also available; these take the form of extra frames and templates. You can even use scripts or macros to make routine photo-editing faster—use it with the batch-editing feature for best results—and save your own filters to save you time in the future.
#9. Krita
Krita, one of several lightweight, open-source Photoshop alternatives, is so good that it has won multiple awards. It features all the capabilities you'll need in its KOffice suite, including dozens of possibilities for customizing your brushes. You can control author HDR images as well. You can even use it to animate pictures and have it work as a sketchpad for artists. It offers support for most types of image files—GIF, JPEG, BMP, TIFF and PNG—and is available on Windows and Mac OS as well as Linux, Unix and BSD.
#10. SumoPaint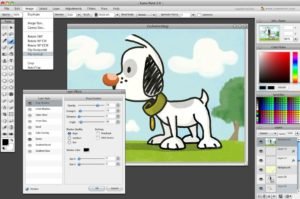 Because it's browser-based—and especially because you can use its service while you're offline—SumoPaint is a good choice for when you're on the go. But don't assume that it isn't powerful: in fact, it has more features and capability then a lot of install-only photo-editing software. It includes all the standard features of photo-editing software, as well as a wide range of brushes for placing color on the canvas. While it doesn't offer extremely advanced photo-editing features, it will get the job done for all of the basic stuff and more: you can change color and hue, reduce red-eye, sharpen blurry pictures, and so forth. Like many other Photoshop alternatives, it offers a paid version, Sumo Guru, which gives you access to new tools and features.
Photo editing: A lot easier if you find the right software
So, by now you know a little more about photo editing software. You might even have an idea of which free Photoshop alternatives you'd like to download. This is great news because it means that you'll have no trouble in editing all your lovely photos, even if you're a complete beginner. And that's great news—not just for you, but also for all your friends and family members who are eagerly awaiting to see what their edited photographs look like.
If you're interested more advanced and useful photo editing function as Adobe Photoshop 2020 has, check out this Top 11 Best Free Photo Editors List.