Is your Windows PC safe? You might believe that that's the case, but in reality, your computer might be in danger. If strange events have happened lately—if, for example, a stranger has used your info, stolen your address, or even done something as trivial as migrate your Minecraft account without your permission—then your computer is at risk. And even if nothing like this has happened to you recently (or ever), improving the safety on your computer is still a great idea.
There are different ways you can improve the safety of your PC. The obvious choice is to download antivirus software, which will find, attack, and kill any viruses it finds on your system, as well as prevent you from visiting harmful websites.
You can also download a password manager, so that you can access your favorite websites safely and securely, and install a VPN connection, to prevent others from accessing your outgoing data.
But one way of increasing computer safety, which you might not have considered, is to use free firewalls for Windows. Using a strong antivirus and firewall software together is one of the common defense procedure you can use against malware.
What is Firewall?
A firewall is a system that protects your computer from external threats. More specifically, it prevents users from accessing, via the Internet, those private networks (both Internet and intranet) to which they don't have access.
It may come in the form of either software or hardware, and functions by screening threats like these—hackers, viruses, and malware, like worms (that is, which makes copies of itself and spreads to many PCs)—so that they can't access your data or information.
The firewall has a set of rules it must follow regarding what kind of data packets may join or leave a given network. By following through on these rules, the firewall can effectively keep unwanted data outside your system. By the same token, firewalls can be used for more innocent purposes, such as keeping unwanted Internet traffic to make processing faster and more efficient.
Because firewalls for windows provide you with an excellent means of protecting your system—and ensuring that it isn't compromised by external threats—you should consider getting one for your Windows PC today. In addition, you might want to consider using free firewalls for windows specifically.
Because they don't cost a thing, there's generally no risk involved if you download one and, if it turns out you don't like the one you've downloaded, getting rid of it is as easy as hitting "uninstall." Plus, there are dozens of free versions offered online, and many of them are very high quality. Some are even better than the firewalls you pay for.
If you've decided that firewalls for Windows are a good choice for you, then we have 10 recommendations of firewalls you can download on your system.
10 Free Firewalls for Windows
Open DNS isn't a software but is instead a means of transforming the way your router deals with data, whether that data is leaving your system or entering it. You use it by connecting to the Internet via OpenDNS' own servers. You can do this with different Windows systems, not just computers. Your devices will then be connected to the Internet, but via a protocol that blocks malicious websites and nefarious content. You can also use its filtering functionality to optimize your children's Web-browsing experience.
PeerBlock is a great example of a free firewall for Windows. It can block entire lists of IP addresses, rather than certain specific programs, and organizes these lists by category. Access is blocked for both outgoing and incoming content so that no one will be able to access your PC or data remotely. Using the categorization functionality, blocking content that has been labeled with a given keyword (such as spyware, ads or P2P) is easier than ever before. You can simply check off the button and watch all those websites be blocked off with one click. It's even possible to create your own lists like this, to give yourself a customized experience. 
GlassWire is new when compared to other free firewalls, but that doesn't make it any less powerful. As a tool built for monitoring networks, it can also be used as an effective means of security. It allows you to block incoming and/or outcoming traffic on your network; this function is manual and can be turned off at will. True to its name, it allows you to effectively monitor your network to view any potential threats. Windows Firewall takes care of screening out threats, allowing GlassWire to focus on those features which make it special. There are also three paid versions available so that you can upgrade your experience whenever you like.
TinyWall is a lightweight form of firewall software, so it's an excellent choice for Windows PCs that don't have a lot of extra disk space. While most firewalls function as their own software and will alert you with pop-up messages on occasion, TinyWall functions instead of adding functionalities to the built-in Windows Firewall. Some of these features include white- and blacklisting both websites and IP addresses and giving you the ability to use hotkeys with most Windows functions. It doesn't require many resources to run (it takes up 1MB on your hard drive), and as a result, it works quickly and efficiently. It doesn't even generate pop-up messages that will annoy you while you're working.
This user-friendly free firewall for windows that protects your PC from all kinds of dangers, including pop-up messages, Flash banners, and unauthorized changes to the registry. It even helps you avoid most ads. You can also choose to block access to specific ports, software, and IP addresses, which is done via a list whose items can be checked off, depending on what you're looking for. There's also a Parent Control section so that you can prevent your little ones from accessing content not meant for their eyes (or ears). It's a great choice for users of Windows XP, Vista, 7, and 8, not least because of its easy-to-use interface.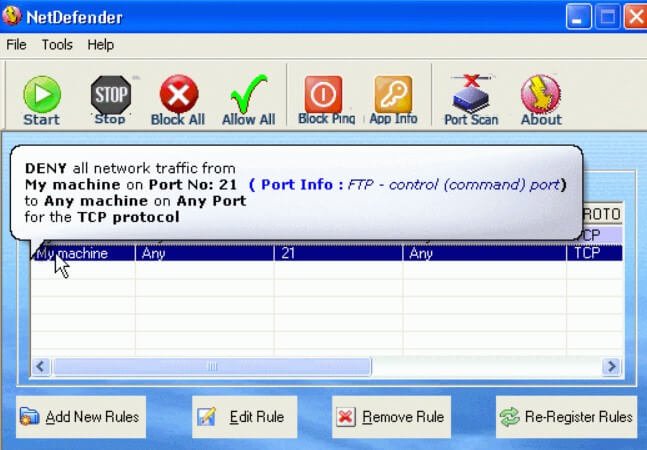 This firewall offers you the ability to define sources, IP addresses, and port numbers so that you can block them at will. You can also use its protocol to enable or block any given address, with the result that you can block FTP or other ports being used on your network without your consent. Blocking apps is also a possibility, as is scanning ports so that you can close unused open ports. Despite being an older software, it works very well on Windows 7 and 8.
ZoneAlarm is one of the best free firewalls for windows that protect your PC by using its advanced features. Not only will it search for—and protect your PC against—malicious software and traffic, but it can also hide ports that are open. It can disable any programs that you haven't authorized, and it can even connect your PC up to DefenseNet, which gives you security protection and updates in real time so that you always know what's going on. Plus, it will protect your PC when you're connecting it to a wireless network.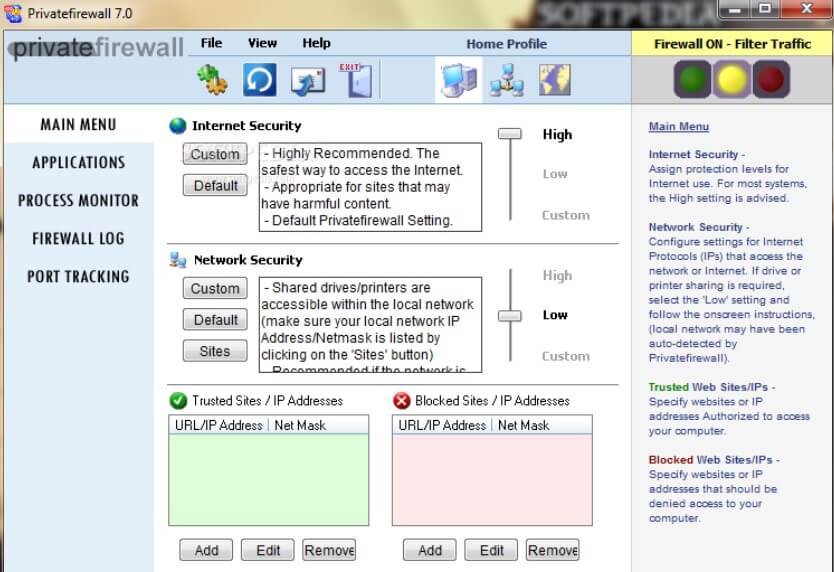 Privatefirewall gives you the ability to swap between three profiles so that you can switch between different settings and parameters with one click of your mouse. The app will block other apps and programs for you, but you can alter the list its operates from by simply adding or removing entries. Blocking and filtering external traffic is easy as pie, and you can even access advanced settings. For example, you can debug processes, toggle the shut-down/log-out option off and on, view and modify the contents of your clipboard, and apply hooks.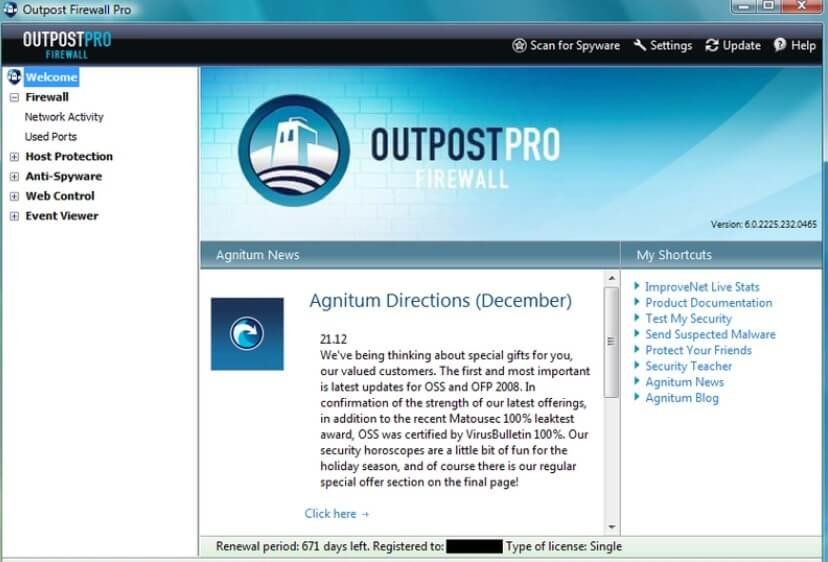 Outpost isn't being updated anymore, but it does offer you multiple advanced features that aren't available in most other firewalls. For example, you'll gain the ability to enable rules for the most popular programs. This will save you the trouble of manually defining the rules when you download the program for the first time. The Anti-Leak Control functionality prevents malware from passing data through your favorite apps, and you can add programs to white- and blacklists, so that they can be blocked or allowed, depending on the circumstances. You can also set certain IP addresses and ports to be blocked or allowed automatically.
Comodo is a free fire firewall for windows that also comes with its own secure browser. (You're not required to use the browser if you don't want to.) But what makes Comodo better than other firewall software is that it creates a sandboxed version of whatever browser you use, protecting it from all threats. Users can add other software to the browser, to make it even more secure. It's also easy to control the permissions given to your system. Comodo is easy to use—it's certainly one of the easier ways of setting up a sandbox (an isolated environment in which a program can function without affecting its environment)—and takes up relatively few resources while running. All in all, it's a great choice for Windows firewall for your PC.
Protect your PC with Firewalls for Windows
Free firewalls are a great way of protecting your PC from any kind of harm that might come to it, whether that's viruses, phishing attempts, or malware. They're also free, so you don't have anything to lose in downloading one for your system today. Simply take a look at the firewalls we mentioned in this article before choosing the one that will best fit your needs. After all, as the old saying goes, better safe than sorry!