We all know YouTube. We all love YouTube. To some degree, we might even think that there is no better video streaming site than YouTube, also sometimes want a variety in our life by finding best Youtube alternatives. But fortunately, that simply isn't true. There is countless video streaming sites out there, each with their own quirks, interesting features and capabilities, and, of course, a unique selection of content. And most of them don't need to follow the same, harsher regulations and guidelines that YouTube has given its content creators, which have angered many and caused them to turn away from the streaming site.
If you're looking to view videos on a website that is less monetized, offers more freedom of expression, or simply provides you with a whole new roster to videos to watch, then you'll do well to check out other sites like YouTube. That's why, in this article, we're going to have a look at the best YouTube alternatives.
Best Youtube Alternatives
DailyMotion is probably the first website you think of when you think of best YouTube alternatives. The website has almost the same layout as YouTube does, as well as the same familiar categories: gaming, sports, celebrity news, and so forth.
DailyMotion offers thousands upon thousands of different videos, including many which are of professional quality. They're all usefully categorized away from easy searching, and that its interface is user-friendly and easy to use.  Furthermore, while YouTube is trigger-happy regarding deleting videos that don't follow its content guidelines, DailyMotion is much laxer. Chances are, if you post something, even if that something is controversial, it won't be taken down by the admins.
On the downside, DailyMotion limits the ability to upload HD-quality videos to pro users, who have to pay. As well, the limit on videos is about 4 G, making it difficult for content creators to upload content that is more than 1 hour long in a single video. This is particularly ineffective for online teachers and educators, who will naturally want to create longer videos to explain all the necessary concepts.  Also, video resolution caps out at 1080p.
You might not have known this, but—in addition to its fairly popular photo-hosting service, which was making the rounds all over the Internet even before the days of Instagram—Flickr also offers users the ability to upload as many videos to the Web as they like. It allows you to upload and share videos, which can be up to 90 seconds long. These are more like "long photos" than they are videos, but, nevertheless, it's an excellent way of getting your name (and your content) out on the Internet, since the Yahoo!-owned platform is very well-established.
Flickr suffers in that videos are limited to 90 seconds long, and that, if you'd like to upload an unlimited amount of videos every month, you'll have to pay a fee of 25$. However, the cost is arguably worth it: you'll find a lot of high-quality, artistic videos on the site.
Vimeo is another well-known YouTube alternative. It is distinguished by its clean interface: when you're watching videos, you won't be distracted by nasty clutter encouraging you to watch other videos. Instead, you can simply focus on the video that you're currently watching, and finish watching it (rather than starting to watch something else that catches your eye, as is the case for sites like YouTube with cluttered interfaces). Vimeo is easy to use, with a beautiful interface and features a clean interface. It's an ideal tool for original content creators (as opposed to those who upload or redistribute other people's content), and many videos hosted on it are of professional quality.
However, the platform has its disadvantages, too. Specifically, there's a weekly upload limit, which is capped out at 500MB. While you can get it upgraded (for a fee) up to 5GB, that's still not a lot of space, especially when considering the amount of space video can take up on a drive.
Metacafe is generally known for original-content, short videos, no more than a few minutes long. Indeed, it boasts that you won't find videos cut up into pieces on its platform; you'll simply find engaging short videos, of which there is a veritable multitude. Forty million unique users come to the website every month. Thanks to the proliferation of premium videos, it may be the one place on the Internet where Sturgeon's law (i.e., 90% of everything is of low quality) does not apply.
Even so, the reality is that videos are generally only a paltry 90 seconds long, making them essentially elaborate Vine videos. Also, while you'll find a lot of original content, it's not an ideal place to search for pre-established content, such as movies, TV shows, and music videos.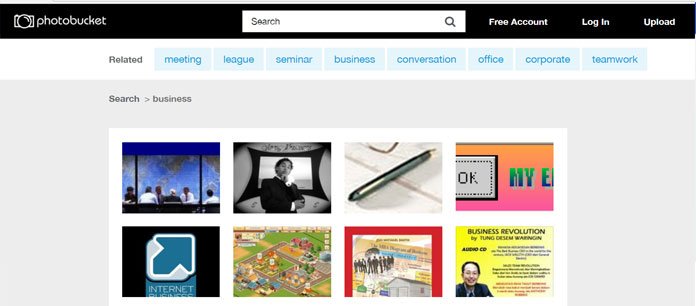 Photobucket, like Flickr, offers users the ability to post both videos and photos. Users have more options and features available to them when they're uploading content, which in general is of rather high quality.
Videos are not limited in length to 90 seconds; however, you won't find as many videos as you will on related websites, like Flickr, since the platform is still growing.
You've probably already heard of Veoh, which, with its clean user interface,  is the perfect place for long videos. You can find short films as well as full-length feature films. This is because Veoh, unlike many of its competitors, doesn't place a cap on how long a given video could be; the maximum file length is effectively unlimited. It's also easy to both upload and views these long videos; no longer will you have to leave your computer open for hours on end while you upload an exceptionally long video to the Internet. You can also add friends and message other users, like on YouTube.
That being said, one problem with Veoh is that the search function doesn't work very well. The result is that you'll have a difficulty searching out the best videos.
Depending on the kind of content you're uploading (gameplay footage or Let's Plays, mostly) then Twitch, perhaps surprisingly, is an excellent youtube alternative video platform. You can easily watch videos that are being recorded live, as well as those that have been recorded in the past via their Video On Demand functionality. It's helpful because virtually all video gamers are familiar with it, with the result that you can easily find your gaming friends, and searching for content related to all your favorite games, genres and franchises is a breeze. Indeed, the website has thousands upon thousands upon thousands of videos to choose from. It's also one of the best places to watch live streams of games.
Aside from these benefits, Twitch's drawbacks are that it pays significantly less than YouTube, so, if you're looking to make money gaming and don't already have an established fanbase, you'd be better off by starting with YouTube. In addition, it doesn't stream as quickly as other websites do, and you can't rewind videos.
Vube, a newcomer to the best YouTube alternatives scene,  went live in 2013 and, only a few months later, attained the list of "top 100 most visited websites in the world." Browsing it is simple and efficient, helped in part thanks to the well-designed user interface. Uploading (and viewing) videos are free and easy, and contests encourage users to post premium-quality videos.
Some users have referred to this website as one of the best YouTube alternatives out there. The community is friendly and encouraging, constantly offering advice, and the staff listens to their community so that they can improve the user experience. The moderators are also great at their jobs, thereby improving the user experience for everyone.
However, the community, while dedicated, is small, which ensures that there is less content on ZippCast than on other best YouTube alternatives. The servers are limited, and videos are capped in terms of both length and file size.
The Internet Archive is another example of sites like YouTube, although it doubles as a storage platform. More specifically, it's part of the Wayback Machine, a website which holds access to all kinds of content from the earlier days of the Web, much of which has since been scrubbed clean of the face of the Internet. To this end, is a great platform if you're looking for content from the early days of the Internet. You can even watch all kinds of content that were traditionally released on traditional platforms: films, TV series, documentaries, and so forth.
For all of its benefits, disadvantages of the Archive are that there isn't as much new content on the site as on other sites. You'll have trouble finding videos if you're focused primarily on the newest offerings from the biggest names in the industry.
YouTube alternatives: Definitely worth your time
If you're looking for videos on the Internet, YouTube can get old pretty quickly, what with its rehashes of celebrity news and movie trailers, cat videos, and videos by YouTube personalities who you can tell are tired of their jobs. And plus, the harsher regulations and difficulties in monetizing content don't exactly make using YouTube a pleasant experience for content creators. And so, for many of us, seeking out an attractive option. That's why we recommend that you search through the archives of the websites we've referred to in this article. You'll find some great new content and engaging videos and films among the many pleasant surprises that can be found on these best Youtube alternatives sites.