Smartphone cameras have become a bigger deal in the recent times than they used to be. Most people usually base their purchase decision on their camera pixels or strength of the camera. Several phone companies incorporate trendy features people want and ensure that their latest cameras can operate perfectly in low light.
Although all Android smartphones come with a pre-installed camera application, the default camera does not always obtain the best picture resolution.
That is the reason why most Android users have switched to using the best camera applications they can find in the Google Play Store. Most of these applications have ultimate photography features that capture real-time photos and gives the best shots you desire.
Most important than having a good camera app is that you should have a good idea of how to take the best photo using your Android smartphone. This involves understanding things like balance, lighting, shutter speed and level of exposure.
Thankfully, various camera apps have been designed with a bunch of photography features that can balance everything for you. All you need to do is to stand at the right angle while taking photos. Here is our list of the best camera apps for Android that you can take advantage of in 2018.
Following are the 10 Best Camera Apps for Android
1- Camera Zoom FX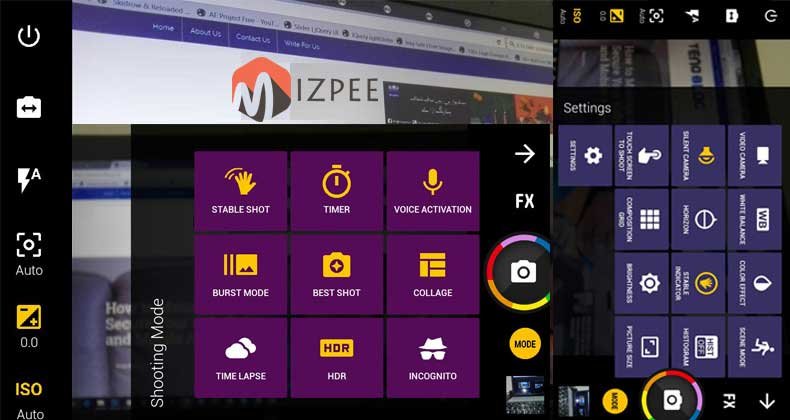 Camera Zoom FX is a trendy Android camera app that has stood a test of time in providing unique features and a continuous stream of updates for its users. With the Camera Zoom FX, you can use preset filters and set up grid lines while displaying a stabilization indicator.
You can also use it as a pure camera app with no frills. It will indicate a red circle on your screen display in a situation where you are shaking too much when taking a photo. This acts as a warning that you might take a wavy photo shot which means you have to adjust your stance.
The incognito mode is another interesting feature that allows you to take photos secretly without alerting others in public. Camera Zoom FX has incredible features and is available as both a free and paid app.
2- Camera FV-5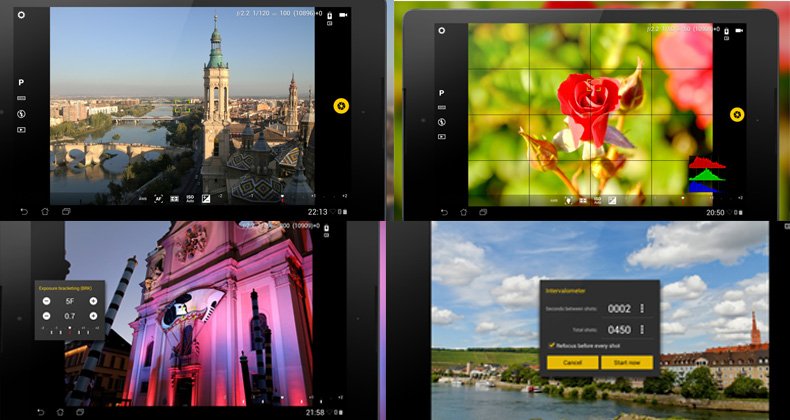 Camera FV-5 is one of the best camera apps for Android with simple and easy to use features. Its RAW capture support attracts both enthusiasts and photographers in huge numbers. Some of the adjustable features in Camera FV-5 app include white balance, light metering mode, exposure compensation, focus mode and ISO.
You can also take unique photos in different formats such as lossless PNG formats, DNG format, and DNG formats. All these formats make it easier for image editing during post-processing. The Free Lite variant harbors all these incredible features. If you want to explore all the goodness of Camera FV-5 Android app, you may opt for the fully paid version.
3- Camera MX
Camera MX is another best camera app that is extremely popular for Android users because of its top end features. It contains lots of extra features that help you share can create GIFs, take videos or time-lapse photos and much more.
The most interesting features about the Camera MX is the built-in photo editor, slew of filters and the ability to create GIFs. It is a well-rounded camera app that does a little of everything. It also boasts being the highest rated options among camera apps for Android in the Play Store.
Camera MX is all about simplicity which is visible in the clean and snappy interface. The various camera modes help you capture stunning photos and videos. It has super active developers who have been keeping the camera app to date.
4- Open Camera
Open Camera is a fully-featured camera application that can be used in Android smartphones and tablets. What makes it adorable is that it is absolutely free with no ads or in-app purchases.
It is equipped with all the necessary features you may need in a camera. Open Camera app supports various features such as scene modes, focus modes, HD video recording, auto-stabilizer, configurable volume keys and handy remote controls.
Other interesting features include dynamic 7range optimization mode, HDR, small size filtering. Support for an external microphone and geotagging of photos and videos. The GUI can be optimized for both left-handed or right-handed users.
5- Candy Camera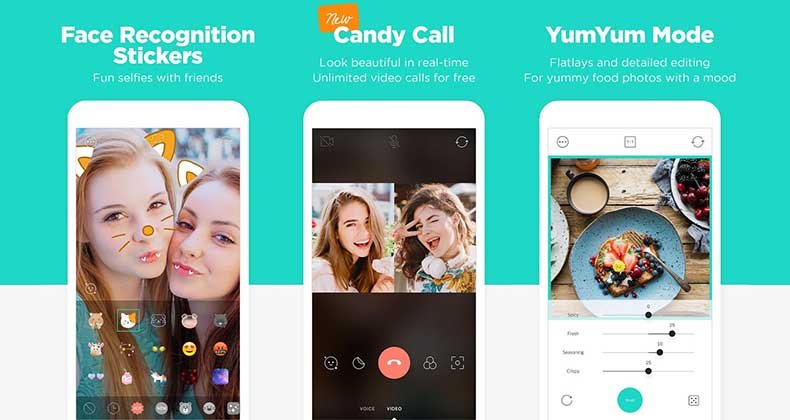 Candy Camera is considered as best camera app for android and offers a new wave of camera apps for Android and was purposely designed for selfies. It possesses a bunch of filters that can help you tailor your photos to what you desire. Candy Camera app also comes with additional stuff such as stickers and makeup tools.
The collage mode is one of the interesting features of this camera app for Android. The UI offers a little challenge to new users but becomes easier to navigate the more you use it.
Candy camera works best for Instagram photos and other social media stuff so it might not conform to the needs of a serious photographer. It is also important to note that the Candy Camera App for Android is free to download but contains ads.
6- Z Camera
Z Camera app for Android offers an elegant interface and incorporates a large number of editing tools and filters. It is easy to use and you can handle the interface by swiping your fingers.
Z Camera allows you to preview filter effects before you can take any pictures or shoot videos. Some of the most interesting features of Z camera include a private gallery, HDR, Beauty selfie, tilt-shift mode and a photo editor. Although you can download the app for free, it comes with ads and in-app purchases.
It implements a real-time filter which makes it a good camera app for wild effects and editing. With Z Camera, you can do a variety of things such as changing your hair color and adding other stuff.
 7- Camera 360 Ultimate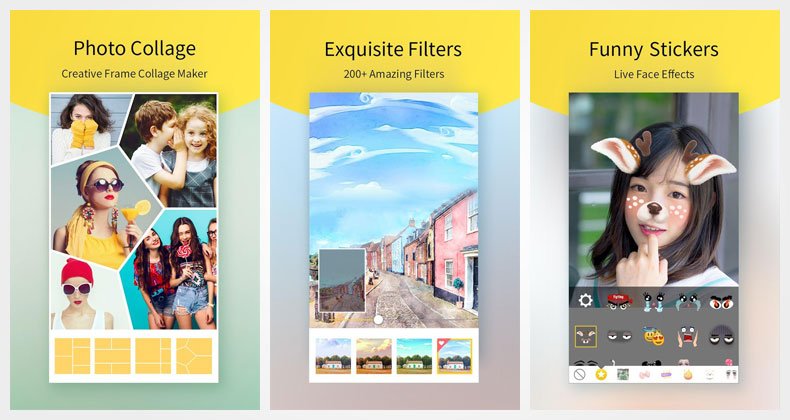 Camera 360 Ultimate is the most eminent camera apps you can find on the Play store and has fully customized camera features. This camera app was designed to conform to the modern social needs of the millennial population.
It provides you with a beauty and selfie camera that helps you capture the best photos and videos. Some of the interesting features of Camera 360 Ultimate include pro-image editing tools, Snapchat, poster templates, art filters and a bunch of cool stickers.
It also allows you to create photo grids and collages as well as filtered and customizable videos. You will definitely like what Camera 360 Ultimate has to offer if Instagram and Snapchat filters are your jam.
8- DSLR Camera
Having an ambitious name, DSLR camera trends as one of the best manual camera apps in the market. It comes with a decent number of manual controls that can be used to capture unique photos and videos.
These include light metering, white balance, ISO, a live histogram and much more. DSLR Camera also incorporates various shot modes and geotagging and volume buttons can be used as shutter buttons. It operates efficiently on most Android devices but the only downside is that it lacks a free trial.
However, you can always test the camera inside the refund time while going for the paid version. The beauty part of the DSLR Camera is that you expect some pretty hardcore features of a camera and the two-stage shutter button gives you a greater focus on taking a photo.
9- VSCO
VSCO camera app for Android has been around for some time in the Play Store. It has the ability to shoot and edit awesome pictures with its bunch of unique features. VSCO is loaded with advanced camera controls and film-inspired presets that allow you to change the brightness, contrast, highlights and much more.
A social component has been built around the app other than offering a wide set of photo editing features. It also provides the option of sharing the photos on social media with a build community around your work.
VSCO allows you to explore the artworks of other people and follow them for inspiration if they appeal to you.
10- Motion Stills
Motion stills trends as one of the newer best camera apps for Android in the play store. It is also considered to be an extremely niche app. The main purpose why Motion Stills camera app was designed was to record short bits of video.
It has the ability to turn a video into a GIF or can remain as a video for later viewing.  It also boasts a fast-forward option that allows capturing of super quick videos. Although it lies on the list as a camera app, it is best suited for taking videos rather than photos.
That is one feature that makes Motion Stills a unique camera app compared to others we have seen before. You can download it for free.
Conclusion
Although your smartphone may have a powerful lens, everything stems down to the camera app you use in taking pictures and videos as well as your overall experience. The list above of the best camera apps for android will give you a unique idea on how you can take funky masked selfies, jazzed-up portraits and awesome photos that picture the perfect moment of your memories.