Instagram, like numerous other social media programs, is extensively used software and a highly new application, used mainly in young people. Your day by day life activities may be uploaded on Instagram. In an assessment of its attraction and reputation, Instagram may be a terrific place for scammers and very fraud people on the internet and diverse activities can be accomplished via this perilous platform.
In order to hack someone's Instagram, you could need to apply a terrific spying software program and strategy that shows you all of the records you need to look from the account that you want to hack and to get all the account records without letting the alternative one realize the fact.
Here are the 5 best applications that can help you hack the Instagram application of your loved ones:
1.Spyic:
Spyic is an available spying software program utilized by tens of millions of followers worldwide and is without problems available free of charge on each of the Android and the IOS operating systems.
Here's through Spyic is a procedure for how you can hack someone's Instagram account without their password below:
This utility facilitates you in hacking a social media account totally free and without any password.
This utility is appreciably built multitasking spying software that lets you get entry to any social media to account from user smartphone and lets you know what's happening in the target social accounts etc. In phrases of nameless hacking, Spyic is the quality web site to lay consider upon and go easily in hacking the Instagram account without spending a dime and at the equal time, being un-diagnosed.
This fact cannot be ignored and one cannot suppress the fact that Spyic has been featured in many big outlets, such as PC World, Forbes, CNET, Tech Advisor, Life Wire, Tech Radar, Toms Guide, The Verge, New York Times, Mac World, 9to5Mac, New York Magazine, Business Insider, Digital Trends and more. It clarifies the notion that the application is big renowned software. You can check Spyic online for further details. Additionally, it is useful for customers as well as it holds immense popularity and is favorite among the leading spying softwares.
Why Spyic Only?
From Unknown call tracking to internet history insight, Spyic consists of miraculous characteristics including:
Easy installation
Minute app size
No downloading due to web-based accessibility
Almost a little or none battery usage
It's free!
Superiority in task
Proper spying facilities with 35+ features
No need to jailbreak or root the phone
Anonymous spying
Stealth mode facility
The Procedure Of Instagram Hacking:
Step 1: Install Spyic
First, you may want to put in the Spyic spying software program to your mobile cell phone. It is easily available free of charge on each Android and IOS. After putting in the software, you ought to sign inside the account and root the smartphone of the target.
Step 2: Enter The Identity Details:
After installation, you may want to get entry to the target phone and offer your e-mail and log in to the Spyic as credentials. Offer your email deal with to the application and then get proper admission to and download the Spyic software. After that, you must rapidly Enable or change security settings and permit your smartphone settings to allow the application to run.
Final Step: Hacking The Suspicious Instagram Of Target:
After putting in and setting up the Spyic software on the goal phone, you could effortlessly view the Instagram account of the target character and without difficulty get entry to to the entire and highly private social media pastime of the person. Spyic application is established and equipped to be spied upon and reveal the Instagram activities of the target character.
2. Minspy:
The mobile cellphone monitoring will maintain you updated about the activities of your children or your personnel which will assure a more secure experience in each the commercial enterprise and your parenthood.
Minspy is the best and free tracking software leaves no stone unturned to acquire and highly intensify experiencing the monitoring of target phones. Various other privileges of this software application are easily accessible and are regarded for being the best.
Minspy allows you to track all of the messages easily. Similarly to that, it allows you to have a look at the account of the individuals from wherein the messages are being obtained.
3. Spyier:
The Spyier Instagram hacker will permit the overall account recuperation and identity, without gaining a particular identity of the person that is spying at the target, moreover, it helps easily and assists vitally to achieve the complete data of the followers of the account. In a meanwhile, the complete identity and profile of the fans can also be accessed.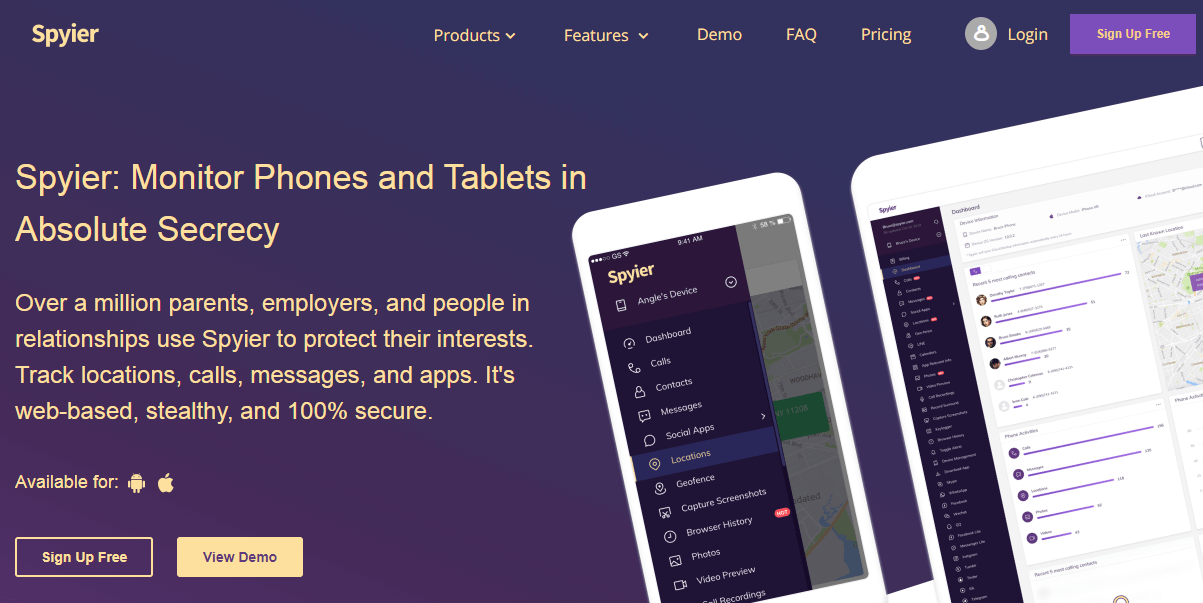 Spyier is the best if you want to hack an Instagram account. The various known entitlements of this application include complete access to all of the messages and accounts.
Spyier is highly recognized and entitled to divulging all of the saved pictures inside an Instagram account. Since many children and couples save specific photos that are mainly obscene, Spyier assures that your child or companion is secure from the external attraction.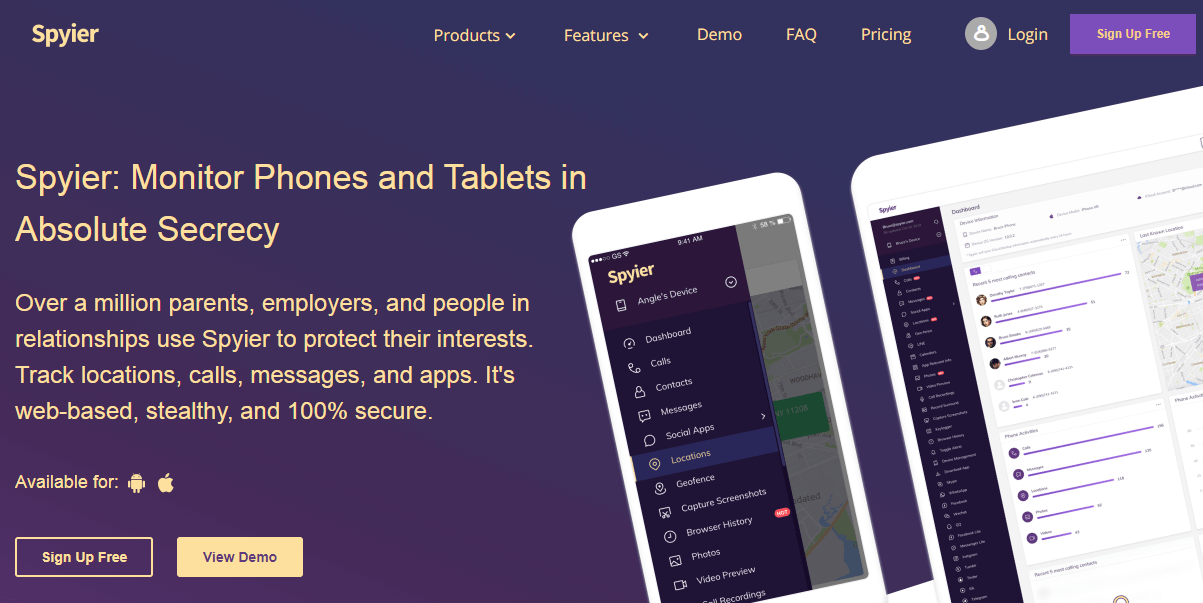 4. Cocospy:
Cocospy is the best application for hacking and has received a whole lot of repute for its eternal and superior characteristics. Cocospy helps you to disclose and be aware of and what type of messages are being dispatched by proper means of the target person or are being acquired.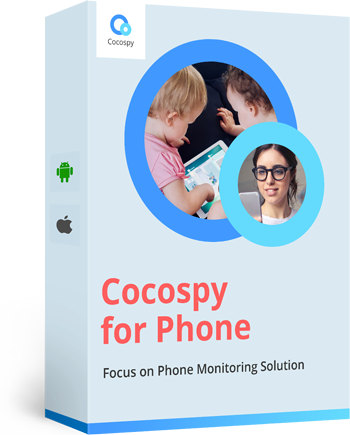 Cocospy is being accounted for its superiority by several online famous programs. Several online workshops conclude Cocospy as a famous spying tool.
Cocospy is a built-in application that is known for easing all of your Instagram spying facilities.  This allows you to ensure that all of your problems are dealt with effectively. Cocospy and its spying tools remain unmatched and superior among all of the other spying applications.
5. FlexiSpy:
FlexiSpy will let you attain complete get entry to to the pics and movies determined on the account of the goal character so that the activities of the individual can be efficaciously traced and entire facts can be received about what is being uploaded on the account of the character you want to spy on.
Inbox information also is available with the help of this hacker, for it will permit you fully get right of entry to the inbox of the individual you are spying on so you can check out whom the spying and convicted individual is in contact with.
FlexiSpy is a neat and easy application that makes you assured and captive for spying needs.
The Last Word:
This article was published to let you know about the purposes of Instagram hacking and phone tracking for android. Hope this article clears the stance. All of the spying needs are fulfilled by these spying applications. These are stated as the best and the foremost answers to any of your spying problems. A lot of these spying wizards are purely intended towards your satisfaction and agreement.